BRITISH HERITAGE DESIGN REIMAGINED
Belle Brummell's elegant Long Jackets are inspired by our Founder's appreciation for 18th and 19th century British couture. Each piece has been designed with Savile Row expertise, whilst honouring the female silhouette, for the confident woman of today.
The Long Jacket Collection
Developed in hand with Savile Row tailors, our Long Jackets are exquisitely crafted to enhance and flatter the female silhouette. Our choice of British made fabrics ensure your jacket is breathable, comfortable and made to last.
The Art of The Belle Brummell Jacket
HISTORIC RESEARCH
The Creative Process
Creating our Belle Brummell Long Jackets begins with our Creative Director's classical vision. Originally trained in classical opera and theatre, followed by a career in classical interior and architectural design, Claudia infuses her knowledge and expertise into the process. 
Inspiration for our jackets came from original designs of George Frederick Worth, Christian Lacroix, Marie Antoinette's dress designer Rose Bertin, and our namesake Beau Brummell. The final profile for our jacket references traditional men's frock coats and women's riding jackets from Savile Row. 
Once the designs are established, the painstaking process of acquiring the finest luxury fabrics and trims begins. Claudia makes her selection from British heritage cloth makers and other specialist suppliers, carefully considering composition, colour and detailing alongside durability and comfort.
MEET THE FOUNDER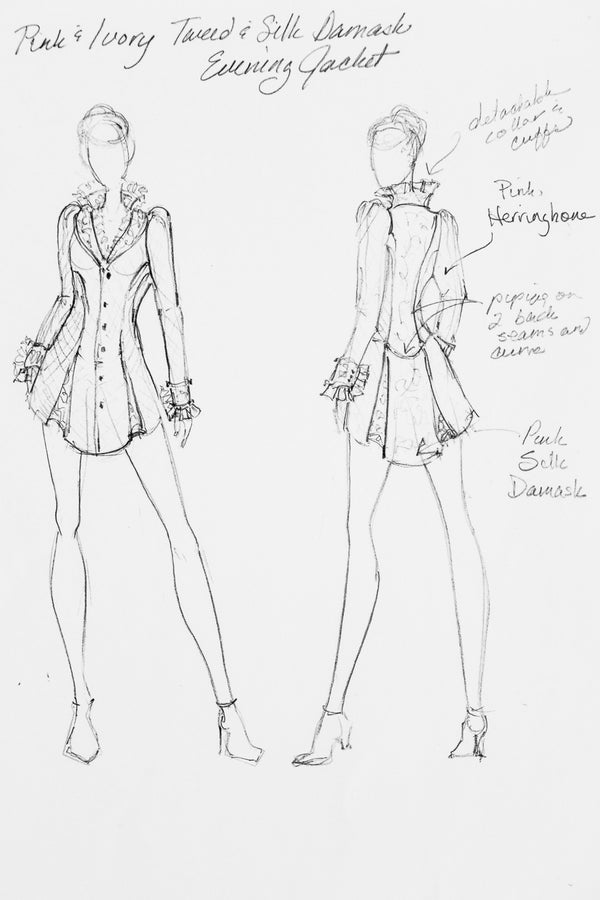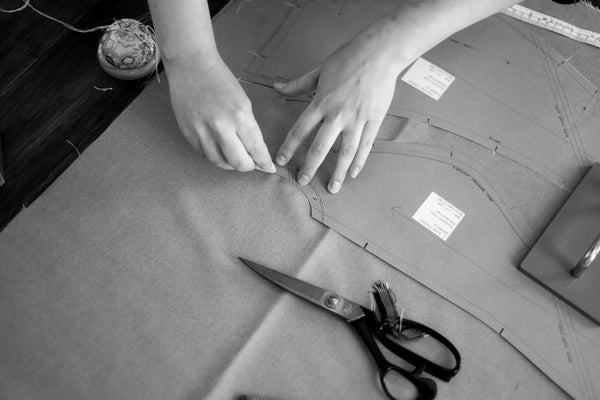 PUTTING IT TOGETHER
Our Luxury British Tailoring
We work alongside one of England's most esteemed female tailors, who trained on the prestigious Savile Row in London. Each jacket is handcrafted using historic British tailoring techniques such as hand cutting and hand rolled crown shoulders, with the use of extensive interlining for shape and durability.
Our uncompromising attention to detail and rigorous quality control ensures that each Belle Brummell Jacket is a wearable work of art. 
More about the tailoring process
SUSTAINABILITY
Responsible Sourcing
Ethical production and environmental sustainability are at the forefront of our priorities and woven into our DNA. As a British brand, our collections are developed and tailored within the UK, ensuring both high employment standards and impeccable quality control. 
We pride ourselves on being part of the slow fashion movement. Rather than following short-lived fashions, your heritage jacket can be enjoyed for a lifetime and passed down through the generations. Every Belle Brummell garment is made-to-order, ensuring we do not produce more than we sell, therefore avoiding waste. 
Our suppliers are meticulously chosen and share our values, ensuring ethical standards are met throughout the supply chain. Our British woollen cloth is sourced through Holland & Sherry, a preferred fabric vendor for Savile Row, providing almost 200 years of expertise and knowledge within luxury fabrics.
Learn more about our fabrics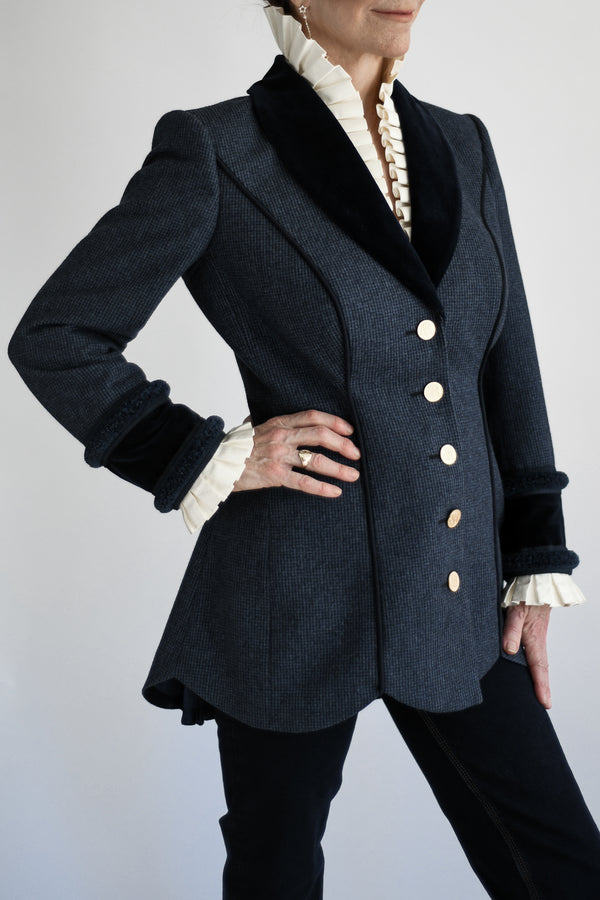 HOW WE ARE UNIQUE
Made-to-Order
Each Belle Brummell Jacket is made-to-order in London. Usually only available with traditional Bespoke services, we are able to offer some unique elements of customisation. During your personal style consultation with our team, online or at our partner showroom on Savile Row in London, you will be able to explore the full collection of styles and fabrics.
Should you wish to proceed, you will be measured in order to find your perfect fit within our range. You will then be able to customise your jacket to offer more room in the bust if required, and a choice of short or regular sleeve lengths. These adjustments ensure the most comfortable fit for your unique shape. Finally, you can choose to add detachable collar and cuff sets which easily snap into the jacket and allow you a variety of styling options, taking you from day to evening.
DISCOVER MADE-TO-MEASURE
Contact Us
Do not hesitate to contact us if you have any further questions or would like to set up an appointment. We will be in touch within 24 hours or our next business day.